The Cellarium Online Monastery Shop: History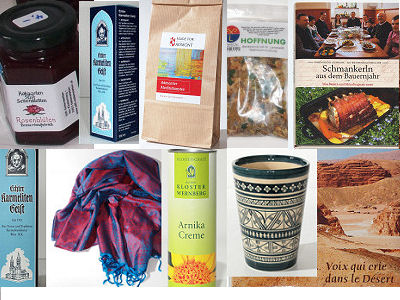 The concept of the Cellarium Online Monastery shop emerged from intense discussions with members of holy orders:
It was supposed to be a small but exquisite online shop that offers specialities from monasteries that are not commonly available; simply a supplement to the existing shops already established at most monasteries. It should also be an additional way of drawing attention to the products of monasteries and present the performance of various orders.
We could very quickly come to an agreement with the Cistercian Abbey of Lilienfeld, Austria, and became the official online shop of the abbey in summer 2009. Our special thanks go to P. Pius Maurer, the prior of the abbey, who thus paved our way to a amazingly gratifying development.
Being IT experts, we wanted to be present internationally on the web, and we contacted several other communities and orders with our idea. This allowed us to found a small shop with exquisite products from a number of monasteries, orders and monks and nuns as starting partners (e.g., the Benedictine Abbey of St. Paul im Lavanttal, Carinthia; the Benedictine Abbey of Kremsmünster, Upper Austria; the Benedictine Abbey of Gerleve; Germany, and the Salvatorian Sister Heidrun Bauer).
In intense work, we endeavoured to create a friendly and inviting web presentation, and we filled it very soon with more and more products.
During time, we have adapted our concept as follows:
The Cellarium Online Shop now is a mosaic of numerous offers from various orders or monasteries, but also from single monks and nuns (the artists among them), which is open for further growth of the spectrum of the goods offered and for the cooperation with other groups. Each of our products is something special, expanding our range of goods, and showing the achievements and efforts of the orders.
We explicitely do not foster competition but cooperation and supplementing of other offers.
We want to show which products are made in monasteries and by orders, and their wide diversity, which may be hardly known to the broad public.
And we hope that our efforts may be a small contribution to the visibility of holy orders and their common acceptance.
Until now (September 2014), we have succeeded in winning an impressive number of partners with our concept: More than 22 partners have authorized us to sell their products on the web; we can offer products of more than 25 partners at our occasional sale exhibitions (e.g., at the "Quo Vadis?" in Vienna or in the health Resort "Königsberg" in Lower Austria).
In conclusion, we want to thank all our partners - from Austria, Germany and Italy - for their confidence in us! We are happy about the positive effect of our efforts, and will continue working for a stable, friendly and successful system.
Your Cellarium Online Monastery Shop team